A decorative backsplash can add fresh appeal to an outdated kitchen or bathroom. But beware! Even a small error in floor, wall, or bath tile can be an eyesore. Misplace one tile and you'll throw off the pattern, a mistake that can prove to be expensive, disruptive and messy.  We recommend hiring a professional licensed contractor to install the backsplash and advise you on current trends in materials and design. After all, you don't want to find yourself spending time and money on an outdated upgrade.
Popular backsplash materials
Glass tile is a long-held favorite of both designers and homebuyers, and in 2016 designers are once again saying that ceramic tile is out and glass tile is hot, according to HomeAdvisor.com. Other hot options include travertine, slate, stone or granite in a variety of forms. Be wary of pastel and other dated colors.
Pairing Tile with Countertops
Focus on finding tile in a color that is already represented in the countertop.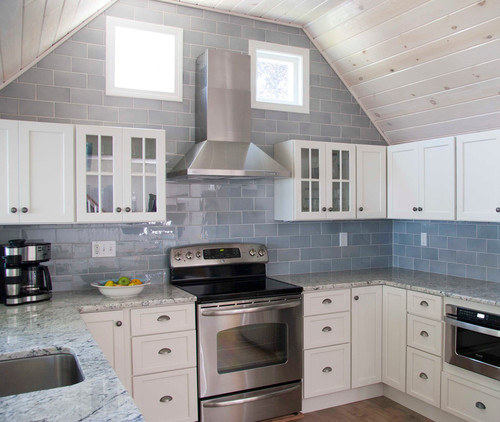 As seen in Houzz, "While this granite is mostly white and gray, the backsplash brings out a blue-gray color in the pattern. Using large subway tiles keeps the grout lines from looking busy."
"The gloss of glass tile complements many granites. Consider a neutral tone that's a close match for the main color field in the granite. The understated soft green of this tile highlights why Colonial Gold granite was a good choice," says Becky Harris for Houzz.
Surprising benefits of hiring a licensed contractor for your installation
Aside from the obvious benefit of hiring a professional to do the job correctly, a licensed contractor with a lot of installation experience will bring creativity to the table. Past jobs done well mean your contractor will be able to advise you on the best way to highlight your room's best features and even give you color and material recommendations.
With their professional discount, they can often make a profit and charge you the same or less than you would pay for tiles at a home center. And with the many tile types, finishes, edge treatments and porosity ratings out there, it's better for him to be doing the shopping. Plus, you want any material failure to be his responsibility, not yours. Remember, you should have a written guarantee that the tiler will stand behind his work. So it's in his best interest to buy quality materials. Besides, failure of the tiles themselves is rare.
When the work is done and it's time to sign off on the job, focus on the tile layout. Is it balanced? A good tiler begins in the center of a room so fractional tiles at opposite ends of the pattern end up the same size. Also check doorways, windows and corners — especially odd-shaped angles in the baseboard or trim. Because custom-cutting tile is challenging at these trouble spots, they're a good indication of a tiler's skill. Look for snug-fitting tiles, and be wary of wide gaps with gobs of grout. Also check that tiles are tucked neatly beneath doorjambs, not butted against them, which looks terrible and creates an access point for water.
Are you ready to update your kitchens or bathrooms with backsplash? Stop by our Kitchen and Bath Remodeling showroom in Naples to see the beautiful backsplash tiles available for your remodel.