Be honest, are you really using the traditional shower/tub fixture in your bathroom? In most cases the tub is too shallow to relax in a bath, what you're left with is just a larger, underutilized shower area. Given that fact, homeowners are looking toward alternatives like designing the perfect shower.
Shower heads and Controls
Like most appliances, the shower has come a long way and the shower heads are just the beginning – think body sprays, handhelds, rain heads and many others. To create a perfect shower, the nozzles – more than two, ideally – should be positioned at the optimal angles. Make sure the shower heads can accommodate the height of the tallest member of the family. Remember to place the handheld nozzles where they will be used most comfortably.
The shower controls should not be positioned on the far wall so a person will need to climb into the shower to operate them, in effect risking being sprayed by a downpour of cold water.
Seating
You don't need a tub to sit down and relax, a well-designed shower should include a seating element and most designs can accommodate showers of all sizes. We like to use treated Ipe or other exotic woods to make a luxury perch. This is especially important if you'll be incorporating a steam element into your ideal shower design. Even if you don't plan on sitting, a bench provides space to rest legs for shaving!
Storage
The lovely thing about the shower/tub combination is that you are able to use the edge of the tub to store hair care products, soap, razors and anything else you use in the shower. Luckily, by adding a niche in the shower wall you can avoid having to stack your grooming products on the shower floor or hang them from a nozzle. A niche can also add a unique design element to the shower area. We use back splash in unusual textures or patterns along with lighting to accent this area.
Towel Bars
Providing storage for your grooming products isn't the only thing to keep in mind as you design your new shower area, you'll also need to hang towels nearby. We recommend standing in the space and reaching for the towel or bathrobe just as if you're exiting your new shower. That way you'll be able to place those elements exactly where they will be most comfortably used.
Universal Design-Friendly
Designing with the option to age in place is a popular trend. If you're transitioning to a well-built shower and away from the tub, you may want to consider adding grab rails to your design whether or not you need them now. No longer relegated to the sterile, hospital-like aesthetic, the design of grab rails can be visually striking and offer much-needed stability, no matter what stage of life you find yourself in.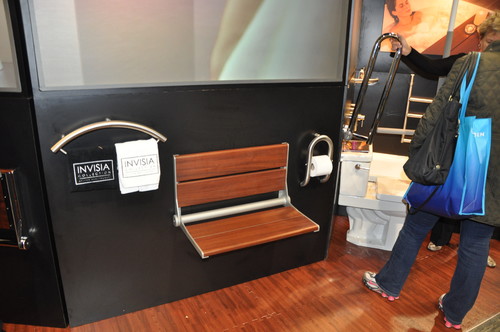 Spaces by
These contemporary grab rails by Invisia are beautiful and functional without appearing institutional.
If you do decide to install grab bars, be sure you or your contractor provides adequate blocking in the walls since they'll need to be securely anchored in order to function as they should.
Add some steam
Historically, steam showers have been very popular and recently this element is rising as a hot bathroom trend again. If you are interested in this feature you will need to first determine the size of steam generator you will need for your space. Calculate accurately by using the cubic volume and square footage of your shower. Although these generators can be pricey, don't attempt to purchase a smaller unit because the result will be disappointing.
Are you ready to build your perfect shower? Visit us in our Kitchen and Bath showroom in Naples and see the newest trends.