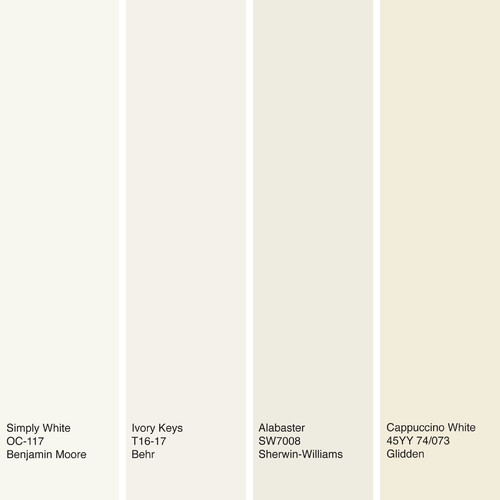 Home décor colors are reaching a new level of purity in 2016. Benjamin Moore, Glidden, Sherwin-Williams and Behr have all named shades of off-white as their 2016 "color of the year" or part of their color trend forecasts.Color affects mood, emotions and even the size of the room. It is one of the most important decisions a homeowner can make about a remodeling project.
"White is transcendent, powerful and polarizing — it is either taken for granted or obsessed over," Benjamin Moore Creative Director Ellen O'Neill said in the company's announcement, as reported by The Washington Post. The Post article went on to say that this particular color was chosen from the company's more than 250 selections of white paint because "it was the most neutral, level and constant in the various light sources used in today's design environments."
It may seem a bit lackluster, especially when compared to some of the more vibrant colors seen in the past few years, but there's a certain peace to the color that fits with the cultural movement toward simplicity and Zen over the past year.
But how can you know if white is the color for you or if you need a different hue to keep your spirits and energy up at home. The big question is, how do you use color to help you design an overall decorating scheme that fits your lifestyle? 
This is something most of us know subconsciously. Listen to your instincts. Do you feel calmer when you're in certain rooms, and more agitated in others? Your unique temperament and perspective is the reason why you gravitate emotionally toward specific color palettes.
Of course, it's not necessary for you to choose one or the other for your entire space. We encourage our remodeling clients to utilize warm colors as a way to build intimacy into a large bedroom, while corresponding cooler shades such as the shades of white on trend in 2016 expand a front room into what feels like an open, airy space.  
Using just one or all of these shades of white, but in varying shades and tints is described as monochromatic, which as the effect of compounding your intended color effect. For example, a small room with a low-ceiling will appear larger when you decorate in a cool monochromatic color scheme, including the ceiling, which should be painted in a blue-tinted white to further expand the space. 
Visit our Naples Remodeling Showroom to discuss how you can use color in remodeling materials such as tile, flooring and paint to add color accents to the white hues popular in 2016.